spring breaking in slovenia (and croatia)
we are a family of empathizers. maybe that's not the right term. but it's the same as the family i grew up in, we are hyper aware of each other's wants/desires. feel distraught when one of us seems at a loss. happened last night at dinner. i was, truly, content with this sunset view and my aperol spritz.
but my food (scampi) arrived fully clothed (prawns with shells and heads and dead black-pearl eyes staring at me) and i couldn't. shrimp are pretty much the only shellfish i still eat, but these were big ol prawns and they were watching me and i couldn't do it. marxe offered his fried calamari, but i stopped eating octopus a couple years ago — such intelligent animals — and i know squid isn't octopus but when the tentacles are sitting there fried like that they sure look like octopus and, again, i just can't. it's been 30 years since i've had meat meat, probably becoming more veg the older i get. the kids were upset that i wasn't going to eat, but after the first shock (little eye buggers), i was fine, over it pretty quick. sipping my spritz and looking at the gorgeous view. kids took a while to catch up. we got through it, they had gelato after (too cold for me), and we walked back to the apartment and all was well again.
we're here in rovinj, croatia, on the aegean sea. internet sucks, but everything else feels lovely. getting through passport control — one booth to exit slovenia, 30 meters further one booth to enter croatia (part of a border dispute still) — reminded me of entering/exiting communist countries pre-1989. and then i started thinking about the true hatred and fighting and disturbing actions taken by any one of the people surrounding us just 20 plus years ago. and then i started thinking about the true hatred and fighting and disturbing actions going on just five miles from my own home yesterday, in washington dc. complicated species. wanting peace, so easily induced to violence.
anyway, most of our trip here has been really wonderful. only not-so-good part was maribor (north east slovenia, second largest city), highlights of which were the pizza and dessert. hadn't eaten all day, so walked around town looking for slovenian food for marxe. nothing nothing and then so hungry we saw pizza and acquiesced. surprise! really yummy thin-crust. and across the way, "choco" served dessert. don't even remember what they got, but do remember tasty chocolate. so that part was good. but our air bnb — bad juju with no redeeming qualities, which hasn't happened in at least four years. and the owner was completely unhelpful. got me thinking about morality and why my hackles rose, but then i read a good book (donald fagen's "eminent hipsters") and got out of there asap the next morning.
satch had a yearning for botanical gardens. a place just outside maribor, but it pretty much sucked so we went on to the city of Celje, which a guy had told us about the day before when we went caving. got to the caving place because a woman from the necropolis told us about it. found the necropolis from a pretty sign on the highway outside Šempeter. so this necropolis was super cool. original tombs from 100 or so AD had been carried away from their burial spots by a flood in the third century. pieces dug up by a farmer plowing his field in 1952 and then archaeologists took their turn. some tombs in really great shape.
a guide lady hanging out explained the mythology carved into each of the tombs and the area itself (everyone speaks at least a little english here). fascinating!
so then the lady told us about these caves nearby and called to tell them we were coming. marxe thought he lost his phone, but he didn't, which we found out after searching through the entire necropolis again. but the cave was still waiting on us. didn't get any pictures (you know, cave, darkness) but saw neato stuff. huge waterfall, stalagmites, stalactites, buttery layers of million-year-old stone. teeny tiny bats like these, smaller than your palm.
met a local guy there who suggested a visit to Celje to see the castle and small town. so that's how we ended up in Celje. right about the castle. super duper cool. built in 1323 by a count who's son (herman II) eventually took over. herman chose a wife for his son (friderik II) and was pissed off when that wife conveniently disappeared so that friderik could up and marry his choice (veronica). so pissed off that herman drowned veronica and stuck friderik in the super high tower for years, until it was time for fri to assume the throne. brutal. beautiful.
another guy directed us to a 'typical slovenian meal' in town. yummy. everything had asparagus. soup with asparagus, salad with asparagus, risotto with asparagus, marxe's meat thing with asparagus etc. dessert had asparagus but we skipped it.
so yesterday on our way here from lake bled (most famous spot in slovenia, a few miles from the austrian border, alps in full view) we hit a 45-minute traffic jam on the small two-lane road heading onto the istrian peninsula. big ol truck directly behind us at one point stopped, driver jumped out, stood in front of his truck facing the trees against the road, and started peeing. rear view mirror outed him (no one else could really see), and the kids and i thought it was the funniest thing. not quick enough with the camera(!). then satch started blasting some music and we rocked out. fun traffic jam after all. fortunately we were all well-fed from the amazing breakfast in bled, where we stayed in a TREEHOUSE! gorgeous. and i even did a little yoga down by the stream early in the morning — first time in over a month, before my flu.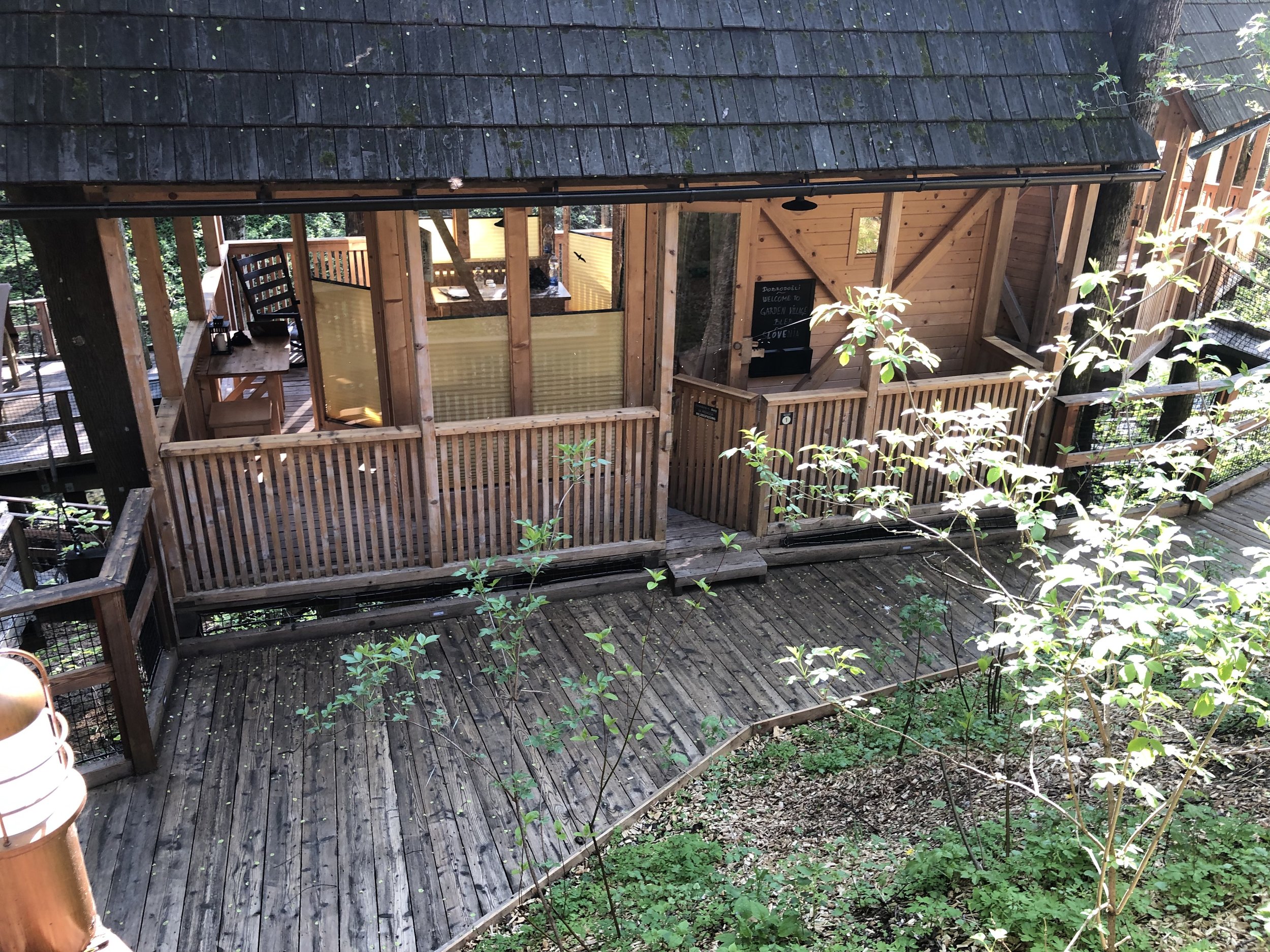 very early in the season at bled, so the tobaggan ride we attempted wasn't open (even though the website said yes). but we did take a beautiful hike up through the forest to see a waterfall a few kilometers to the east.
checked out Radovljica, another small town nearby, where we found a dessert with jam and cream surrounded by a tomato-size chocolate ball that you pour a warm topping over until the chocolate melts in on itself and then you dig in.
treehouse place is an eco resort, catering to rich slovenians, austrians, and americans. worth it. finely crafted mini wood houses, bucolic and serene. such an improvement from the night before at bad-juju-air-bnb-place. after that aforementioned breakfast, we rowed to the small island in the middle of lake bled, had a nice walk around, rowed back.
oh, and i haven't mentioned the dogs. dogs are EVERYWHERE here. everyone has a dog. big dogs and little dogs, black dogs and white dogs … you get it. tons of dogs. and the dogs are allowed everywhere.
rovinj itself reminds me of a snow globe. compact medieval town on the aegean sea and we lucked out with perfect weather. leisurely day, sipping spritzes, telling hawkers we speak solamente español (not one of their four or five languages here) so they'd leave us alone, stone streets, gelato, church on the hill, etc. one guy, trying to get our attention said i looked like a cross between liza minelli and barbra streisand. haven't heard that one before.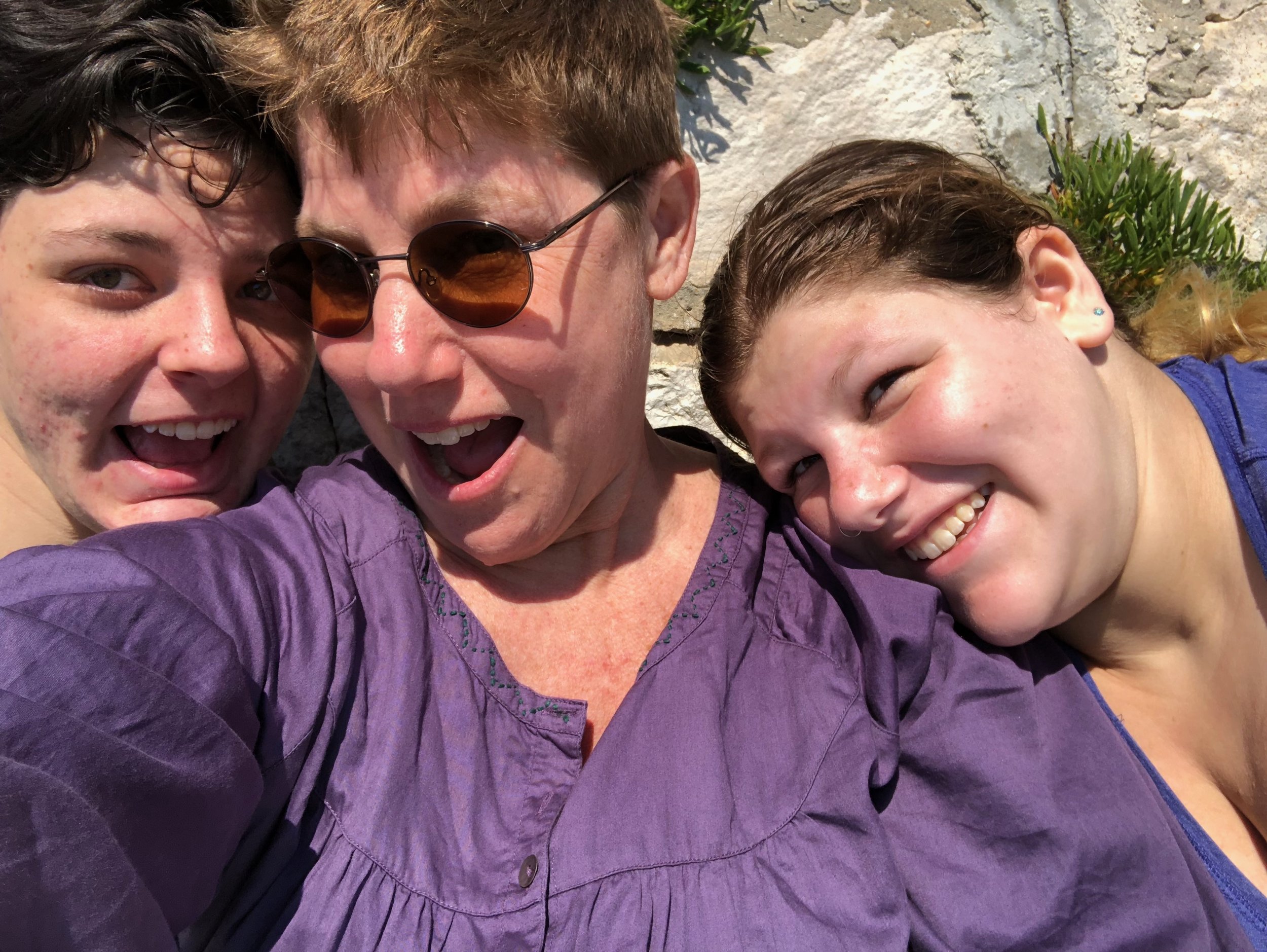 evelyn, the airbnb owner and her dog tara very sweetly welcomed us.
as we left a couple days later, she suggested we visit motovun (a high castle town) before heading back to ljubljana. good tip. another cool cemetery, some decent crafts, and a nice climb to the top castle.
oh. and forgot to mention the faces of Ključavničarska ulica, a small alley in ljubljana. Jakov Brdar, a sculptor with wild, desperate pieces all over town, created more than 700 bronze faces running down the center of the alley. happy faces, smushed faces, faces in agony, portraits, etc. amazing.
so, to summarize: beautiful countries, super nice people, castles, dogs, asparagus, honey, and truffles. truffles everywhere. good trip.